ODEON TOYS NEWS
CAPTAIN CANUCK ACTION FIGURE LAUNCHES WITH CANADA WIDE EVENT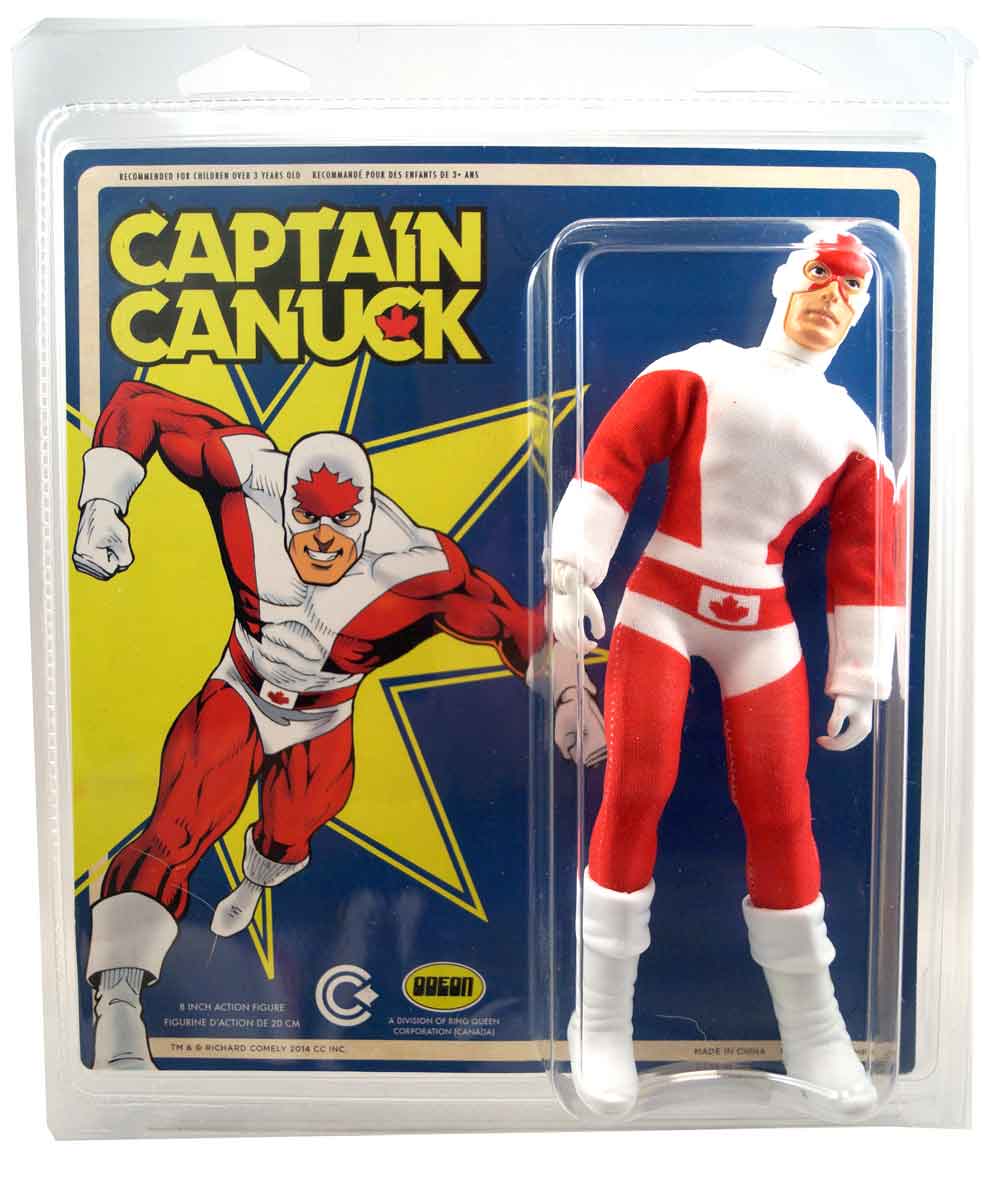 JAN 19, 2015

Kicking off the Captain's 40th Anniversary Action figures land in comic book stores across Canada

As the first of many celebrations for the 40th anniversary of Canada's own Captain Canuck, Big B Enterprises in association with Captain Canuck Incorporated are pleased to announce the release of the Captain Canuck Retro action figures. "We have been anxiously waiting for these action figures to arrive in Canada. These are the first wave and they have been highly anticipated by fans and collectors." Declares Walter Durajlija, owner of Big B Comic book stores and CC Inc. licensee. Crafted in the Classic Mego-style by Odeon Toys, this Limited Edition collectible (MSRP $29.99 CDN), captures all the action and excitement that Captain Canuck has brought to fans for the last 40 years.

The figures are being introduced Saturday January 24, 2015 in comic book stores across Canada. These are all designated 'Official Captain Canuck Club Member' stores and many of them are celebrating with in-store artist signings. Hamilton's Big B Comics plays host to Captain Canuck Creator Richard Comely while Kalman Andrasofszky, writer and artist for the upcoming Captain Canuck Monthly will be appearing in Toronto's famous Silver Snail store. Both signings are from 12-3pm.

Contact- Big B Comics, Walter Durajlija 888.272.8831

OFFICIAL CAPTAIN CANUCK CLUB MEMBER STORES:

ONTARIO

Toronto

Silver Snail Comics, 367 Queen St. W. 416.593.9433

Hamilton

Big B Comics, 1045 Upper James St. 888.272.8831

Niagara Falls

Big B Comics, 6465 Lundy's Lane 289.296.2968

Barrie

Big B Comics, 241 Unit 1 Essa Road 705.739.1513

London

Heroes, 186 Dundas St. 519.439.4955

Ottawa

Silver Snail, 391 Bank St. 613.232.2609

QUEBEC

Montreal

Comicage Entertainment, 9675 Papineau #25, 514.678.0617

NOVA SCOTIA

Halifax

Strange Adventures, 5262 Sackville St., 902.425.2140

Dartmouth

Strange Adventures, 101 Portland St. 902.444.2140

NEW BRUNSWICK

Fredricton

Strange Adventures, 68 York St. 506.450.3759

ALBERTA

Edmonton

Happy Harbor, 10729 104 Avenue, 780.452.8211

Calgary

Another Dimension, 424B 10 St. NW, 403.283.7078

SASKATCHEWAN

REGINA

Comic Readers Downtown 105 – 2125 11th Ave 306.779.0900

Comic Readers South 4603 Albert Street 306-586-1414

416.858.9446

ABOUT CAPTAIN CANUCK:

Created by Richard Comely and Ron Leishman, Captain Canuck was first published by Comely in 1975. Captain Canuck rose to National acclaim after a CBC radio play, more than 2.3 million comic books (28 issues), Newspaper comic strips, hard cover and TPB collections from IDW publishing, and various licensed products. Captain Canuck original art exhibitions travelled to four Southern Ontario cities in 1998 – 2000. In 1987 the Captain adorned the cover of Time Magazine, Walrus Magazine (2007), other magazines and his own Canada Post stamp in 1995. A live action feature film is currently in development at Minds Eye Productions. Celebrating his 40th anniversary, Captain Canuck has been re-envisioned with a new costume for an upcoming new comic book series and a popular animated web series.

ABOUT CAPTAIN CANUCK INCORPORATED:

Captain Canuck Incorporated (CC INC) was founded in 2012 by Fadi Hakim. Entrusted with Richard Comely's patriotic creation, Fadi enlisted Paul Gardner as Creative Director to re-imagine Captain Canuck for a new audience. Having launched a star-studded Captain Canuck Animated Web Series in 2013/14 and the first Canada Day Edition (2014), CC INC. looks forward to the launch of the upcoming Captain Canuck monthly comic starting with #0 on Free Comic Book Day on May 02, 2015.

ABOUT ODEON TOYS

Odeon Toys produces action figures and collectibles outside of Toronto ON. Formed in 2011, the company's first release were the Mego Museum Super Collector and Brick Mantooth : the Plaid Stallion action dolls.



All Odeon Toys are available at the PlaidStallions Store
This site is © Copyright ODEON TOYS 2015, All Rights Reserved
Steve's free web templates